About Angela Pond – Personal Fitness Coach
My love for fitness started when I was young. I remember running around the house just for fun, sneaking out to ride my bike with friends, and doing sit-ups at night out of whim. It was unadulterated hours of absolute energy, and it was fun!  In school, I spoiled myself with a good mix of sports like volleyball, basketball, track, and tennis.  With utmost support from family and friends, I decided to pursue a Bachelor's Degree in Kinesiology, the study of sport and movement, in college.
Years later – along with a few certificates and life lessons – I find myself still very passionate about fitness.  In January 2008, I started running longer distances, and ran a 5K, 10K, a half-marathon, and a full-marathon, all in one year! In 2012, I finished my first half Ironman Triathlon with my husband.  One thing I learned about running marathons – and about life – is that if we are always hesitant to try new things, we will not know what an awesome feeling it is to accomplish things that years ago we thought were unattainable.  Nothing truly is impossible when you put your mind to it.
My fitness philosophy is simple:  find an activity that you enjoy doing by yourself or with a friend. Take that first step in getting fit. It doesn't matter if it's as simple as riding your bike to the store instead of driving; take small steps to begin, and before you know it, you will start to see results!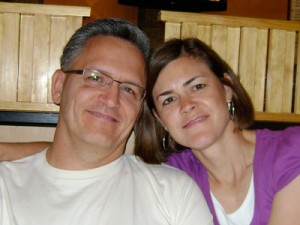 After being married for 20 years to a wonderful husband and raising a tremendously talented son, I am still enjoying the fruits of maintaining a healthy, active way of life.  Let me share the experience with you, and I promise you – you, too, will love the fit life.
I look forward to hearing from you,
Sincerely,
Angela Pond, CPT
NASM (National Academy of Sports Medicine) Certified Personal Trainer
Bachelor of Science in Kinesiology from University of North Texas, Denton TX
Certified to teach Physical Education PK –12 Grade