Senior Fitness Training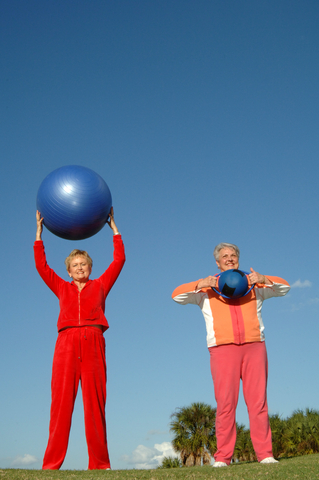 Being physically fit is not only for young people.  It's for everyone.
Many older adults don't exercise because of existing health problems, or simply because they think old age cannot quite handle the physical requirements of a workout routine.  Some even go as far saying exercise is "bad" for old people.  For the elders who wish to stay fit, however, there is the dilemma of not knowing which exercise routine is safe and effective.  Then there is the fear of falling and hurting themselves.
These are all valid concerns; however, exercise is still vital for healthy aging and remaining fit. Getting into the habit of regular physical exercise does not only help you cope with an injury or disability, but it also allows you to remain healthy for many more years to come.
With the help of my Senior Fitness Training program, you can enjoy the benefits of:
An improved sense of balance, which will help you decrease the risks of falling and other balance-related injuries
Looking and feeling younger, which helps increase your confidence
Remaining healthy, reducing the risks of  variety of conditions such as Alzheimer's and Dementia, and diseases such as diabetes, colon cancer, high blood pressure, and obesity
Being able to enjoy life as you play with your grandchildren, take pleasure in gardening, and, of course, traveling – you've lived a long, remarkable life, so you deserve it
Weave exercise into your daily life. Contact me for a consultation, and I'll help you create a fitness goal that's best for you!